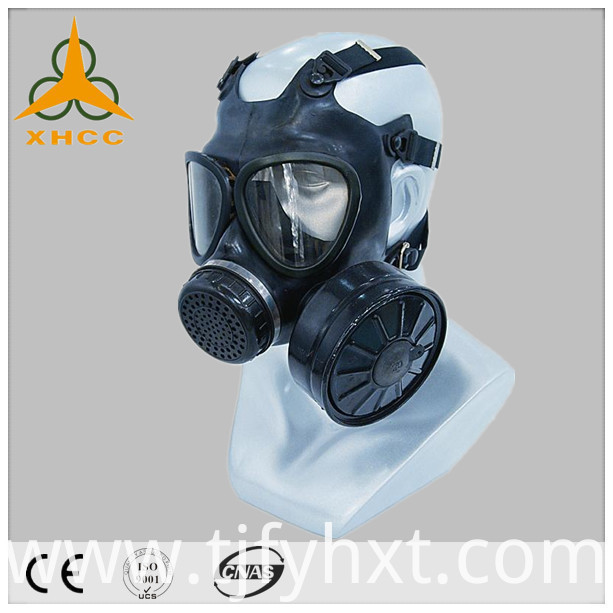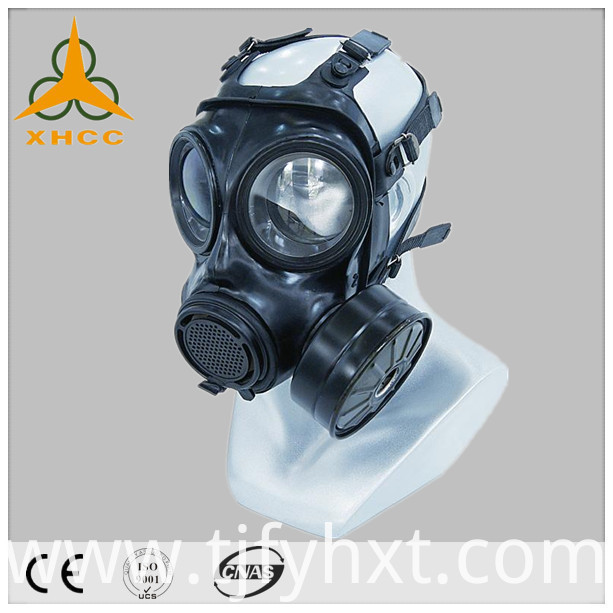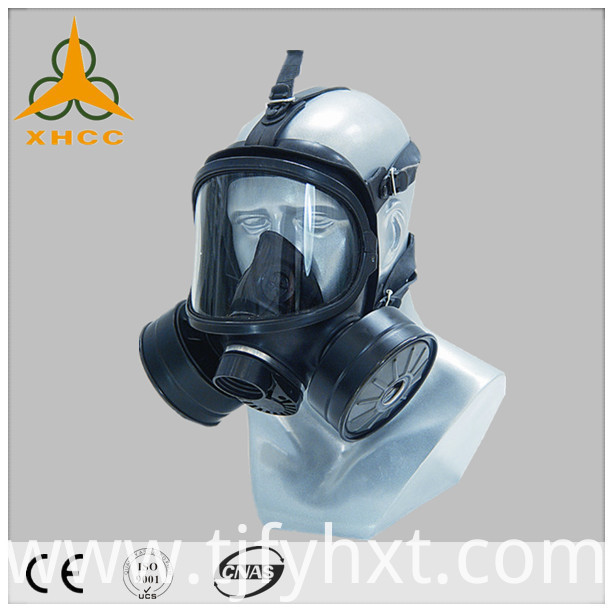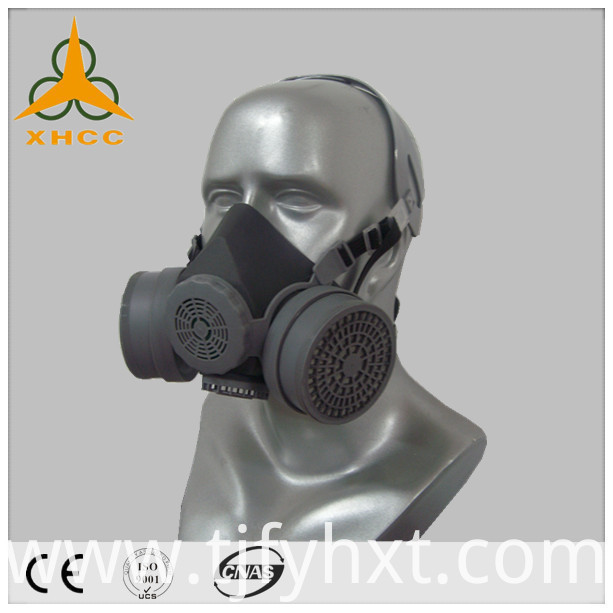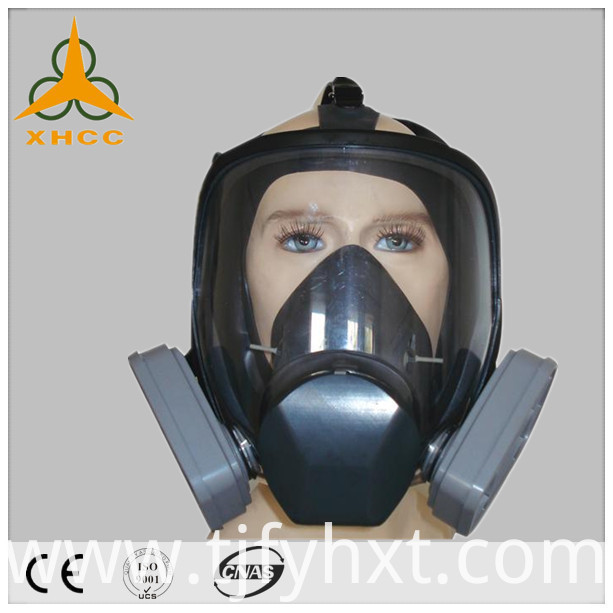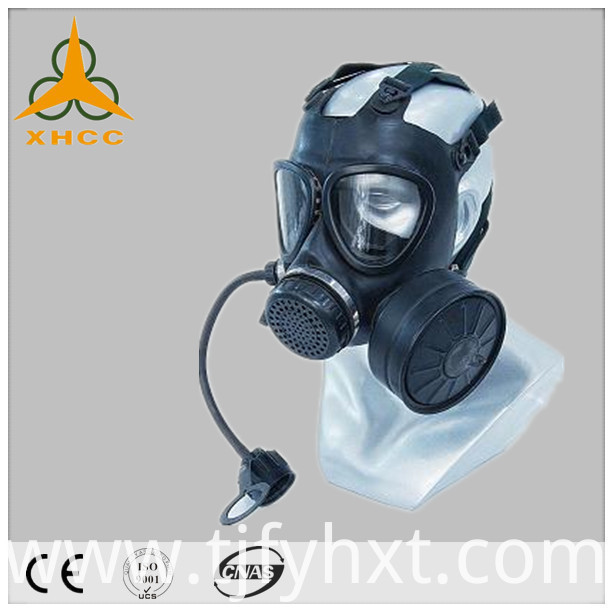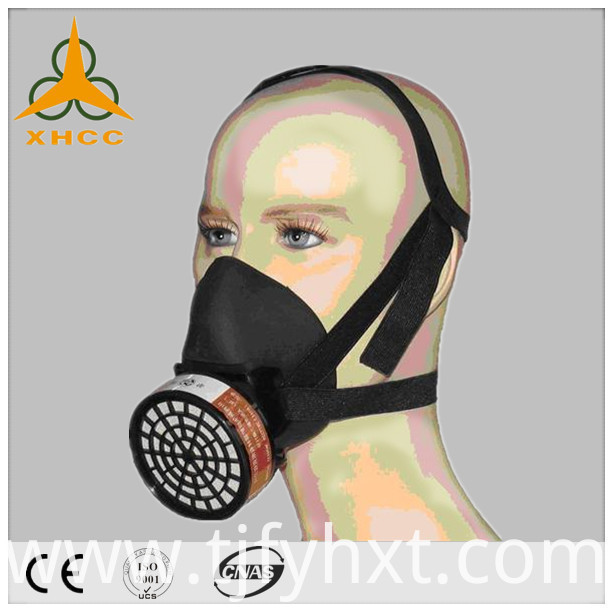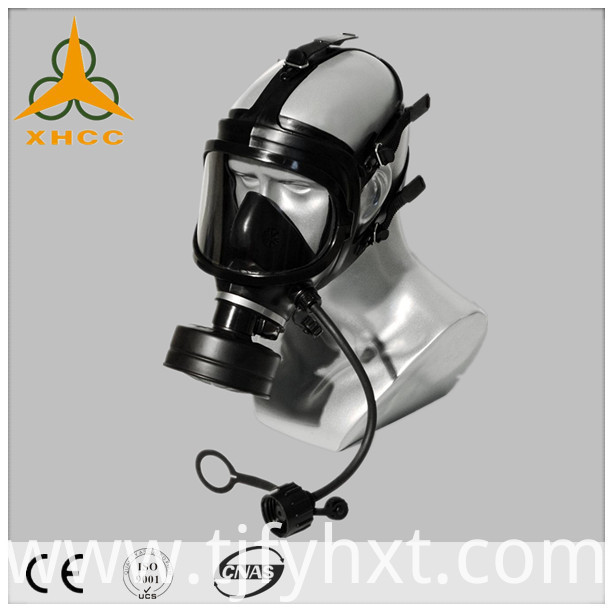 1. Product Information
     The type MF14gas Mask is a novel design Gas Mask, whose canister is connected directly to the face piece. When the air is a contaminated NBC agent, the Gas mask provides effective Protection to the wearers respiratory organs, eyes and facial skin. The gas mask is designed for the military, police and civil defense and can also be used in industry, agriculture, storehouses, scientific research work, etc.
 2.Composition and characters
   MF14 gas mask is a kind of fillet type , the faceblank , which is made by injection molding and surface graining, can be matched with the protective suits. The voicemitter can make the sounds clear and less losing. The faceseal of the mask is designed to an in-turned rim contact between the mask and wearer's face which can make the wearer a comfortable feeling and a good dynamic airtightness, and it is suitable for more than 95% adult to wear. Large eyes lens of the mask is made of a reinforced polycarbonate by surface coating, it is performed by anti-fog treatment so that can possess a wide visual field, excellent optical properties and shock resistance. The structure of the nosecup, which has a good performance, can ensure an excellent brightness of eyes lens. The head harnesses can be adjusted at random to ensure a comfortable wearing.
 3.MF14ype gas mask :
service life(min)
Exhalation
Oil mist penetration coefficient

Inhalation resistance,

dapa

Total field of vision
Binocular visual field
Total weight
Packing

>30min,

CNCI:1.5mg/l,

30l/min,

Φ:80%

≤100pa
≤0.005%
≤98pa
≥75%
≥60%
<780g
Carton box
Note: The material of natural rubber, silicon rubber and chlorinated butyl rubber for the faceblank can be selected in accordance with the customers needs.
Packaging & Shipping
Inner packing:250*170*170mm Gross weight:1.1kg 20piece Carton box
External packing:870*430*370mm Gross weight:25kg Carton box
Our Services
1.Can provide the sample.
2.Can come to sample processing,Can undertake large quantities of emergency order.
3.Undertake to build production line services
Company Information

Located in Taiyuan, Shanxi Province, we enjoy the rich coal resources. Occupying an area of 390 thousand square meters, our company is equipped with more than 2300 sets of machinery, which are operated by 3000 workers. We also have a highly qualified technical team engaged in developing new items and selling clients' customized orders. 
  Through the efforts of our entire staff, we have become a professional manufacturer in Activated Carbon and protective equipment filed. Xinhua people have continuously tried to improve product quality, introducing Japanese advancing technology and equipments which giving our company good technical capabilities. Our annual activated carbon's production capability is more than 20,000 tons. 
  Working in line with principle with integrity, quality, service, we have already obtained ISO certification and NSF certification. Moreover, we are the unit of drafting National Standard of Coal-Based Activated Carbon and test method. With good quality, our products enjoy a high reputation among all clients. Meanwhile, XINHUA brand is a famous brand in China. 
   Our company regards reasonable prices, efficient production time and good after-sales servicrt
e as our tenet. Please feel free to contact with us if you are interested in any of our product. We are honored to have the oppo
unity of establishing a business relationship with your esteemed company.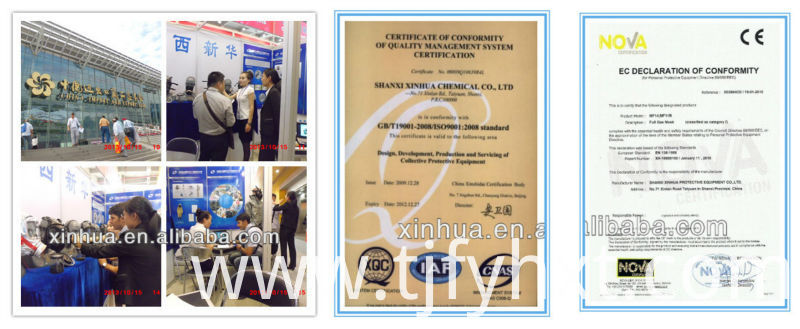 per unit Outer Bulky Packing :  850*510*360mm (20pcs/carton box)
  total gross weight :21kg
6.Usage maintenance and maintain
6.1.The selection of gas mask
(1)checking the position between glasses and eyes, if the position of our eyes is 10mm higher than the horizontal center line, that proves the size is correct. And if it is higher than this, that means the size is small, and on the contrary that indicate the size is big.
(2)Pressing the connector of the canister tightly, and taking a breath, if the mask clings face without any air leakage that means a right selection.
 6.2.The procedure of wearing gas mask
 (1)   adjusting the position of fillets
 (2)   opening them and putting the mask on and then tightening the fillets to finish wearing Attention:
 (3) fillets can not be curl or be pressed inside the mask
 (4)  the stretching forces on each fillet should be equal
 (5) screwing the canister tightly up the connector in order to prevent air leakage
 (6)  considering both comfortable and air tightness while tightening the fillets
 (7)  after a long time wearing, there would have accumulation of sweat, especially in summer days, on this occasion, bowing down and taking a deep breath, the sweat would release form the exhaust clack.
 6.3.Pick gas mask off
Grasping the phone and lifting it up ahead to pick the gas mask off bottom-up.
 6.4The maintenance and storage of gas mask
(1)     wiping the sweat and dirty things on both side of the mask after using keeping the glasses and exhale vale clean especially
(2)     in case of having dirty on the exhaust clack, opening the voice meter and pick out the combination of exhaust clack and phone film to make a clean, and then setting them up as original, tightening the cover
(3)     stalling the mask in a shady dry place with supporter inside, the same time keeping them away from the organic solvent such as gasoline etc, in order to prevent the distortion of mask
(4)     taking the canister off when it would not be used for a long time, and putting the cover, because the canister would low the capacity of adsorption under a wet condition.
(5)     in case of water penetration into the canister, replacing a new one at once.
Product Categories : Gas mask > Full Face Gas Mask