anti-ebola waterproof isolation gown
1. Main Specifications
 1)Mechanical Properties
| | | |
| --- | --- | --- |
| No. | Item | Indicators |
| 1 | Thickness (mm) | 0.34±0.05 0.34 ± 0.05 |
| 2 | Tensile strength (≥ KN / m) | Warp: 6.3 weft: 5.5 |
| 3 | Tear resistance (drop hammer ≥ N) | Warp: 5.0 weft: 5.0 |
 2)Chemical properties
| | | |
| --- | --- | --- |
| No. | Item | Indicators |
| 1 | Mustard anti-drug purity (95% 36 °C ± 1 °C × 130min) | No penetration |
| 2 | Cold (-40 °C × 5min folded 180 °) | No crack |
| 3 | The second triple-resistant solution (6N HCl, 6N sulfuric acid, triple II solution, 36°C±1°C×1h) 36 °C ± 1 °C × 1h) | No crack |
| 4 | Fracture resistance of gasoline (120 # gasoline dipped by 30s) | No cracks, no sticky |
| 5 | Thermal aging (140 °C ± 2 °C × 8h) | Non-stick, not brittle |
| 6 | Acid resistance (tape adhesive surface after pickling) | No discoloration, cracks, sticky |
| 7 | Protection Factor | >33 > 33 |
| 8 | Weight (Kg) | ≤3.5 ≤ 3.5 |
| 9 | Stitch density (needles / 5cm) | 12~15 12 ~ 15 |
3.Clothing optional
anti-ebola waterproof isolation gown size divided by large, medium and small (1.2.3) in three,
Small size 170cm-175cm (39#-40#),( 54326133,39 # -40 #).
Medium 175cm-180cm (41 # -42 #)
Large, 180cm-185cm (43 # -44 #)
4.Auxiliary product
 1)Protective boot covers
2) Protective Gloves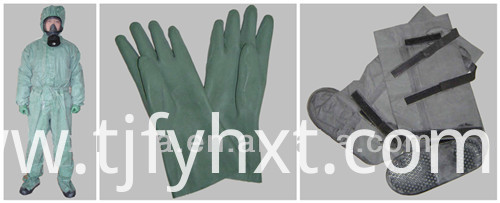 590×410×340mm 
1 pieces/ bag 4 pieces / carton
Weight:14.6kg
1.Can provide the sample.
2.Can come to sample processing,Can undertake large quantities of emergency order.
3. All products will have been strictly quality checked in house before paking
4.We have strong cooperation with DHL.TNT.EMS. You also can choose your own shipping forwarder

Located in Taiyuan, Shanxi Province, we enjoy the rich coal resources. Occupying an area of 390 thousand square meters, our company is equipped with more than 2300 sets of machinery, which are operated by 3000 workers. We also have a highly qualified technical team engaged in developing new items and selling clients' customized orders. 
  Through the efforts of our entire staff, we have become a professional manufacturer in Activated Carbon and protective equipment filed. Xinhua people have continuously tried to improve product quality, introducing Japanese advancing technology and equipments which giving our company good technical capabilities. Our annual activated carbon's production capability is more than 20,000 tons.
  Working in line with principle with integrity, quality, service, we have already obtained ISO certification and NSF certification. Moreover, we are the unit of drafting National Standard of Coal-Based Activated Carbon and test method. With good quality, our products enjoy a high reputation among all clients. Meanwhile, XINHUA brand is a famous brand in China.
   Our company regards reasonable prices, efficient production time and good after-sales service as our tenet. Please feel free to contact with us if you are interested in any of our product. We are honored to have the opportunity of establishing a business relationship with your esteemed company.


7)Grain depots, chemical plants, urban construction (sewer) and other maintenance.
8)Airtight, dustproof, waterproof, moisture, sand.
9)Also widely used in camping training, mine fields, fishermen fishing and so on.
10)Our Chemical Protective Clothing can also be anti-virus, fire-retardant, antistatic, heat, acid, radiation protection and other functions integrated in one, so that a comprehensive performance to meet the different industries, different circumstances the special requirements of users .
 2.Maintenance
1)Contaminated with hazardous chemical agents in the service or other contaminants, afterthe completion ofoperation, using the liquid and water clean, inside and outside to dry to prevent corrosion damage, mildew.
2)When using and wearing, do not touch sharp objects, so as to avoid mechanical damage.
3)When store the chemical Protective Clothing and gloves, external to wipe a layer of talcum powder.
4)Chemical protective clothing should be folded neatly, packing storage, do not squeeze.
5)Chemical protective clothing storage, the requirements of dry, organic solvent vapors.
6)Kept for seven years.
Product Categories : Protective Clothing